Springback
From DocR23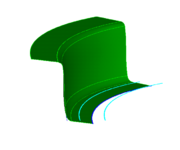 Springback is a shape modification tool which can be used to correct for predicted or measured spring back effects in sheet metal stamping. Users control the desired shape change by specifying before and after positions (points) or edges (wires). Also, fixed positions, edges, or faces can be specified. The modification can be applied to arbitrary ACIS sheet bodies.
edit
Springback Operations
edit
What's New in Springback

No interface changes for ACIS R23.
edit
Springback Interface