Sphere
From DocR23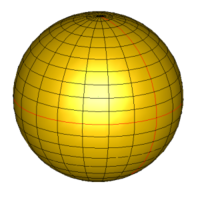 In geometry a sphere is the set of all points in three-dimensional space which are at distance

from a fixed point of that space. The fixed point is called the center of the sphere and

is a real number called the radius. In ACIS a positive radius indicates an outward pointing surface normal; that is, a convex spherical surface. A negative radius indicates an inward pointing surface normal; that is, a concave or hollow spherical surface.
Parametric Form
The parametric equation for a sphere is:

where
| | |
| --- | --- |
| | is the center position (centre), |
| | is the pole direction (pole_dir), |
| | is the direction to the origin of the parameter space, from the center (uv_oridir), |
| | , which is negated when reverse_v is TRUE, and |
| | is the sphere radius (radius). |
The

-parameter is the latitude metric, and is the angle between the line from the center to the test point and the equatorial plane; negative in the southern hemisphere and positive in the northern. The

-parameter runs from
at the south pole, through 0.0 at the equator, and to

at the north pole.
The

-parameter is the longitude metric, and is the azimuth angle running from

to

, with 0.0 on the meridian containing uv_oridir. The

-direction is specified by the right-hand rule around the pole_dir when reverse_v is FALSE. If reverse_v is TRUE, it is in the opposite direction.
This surface parametrization is left-handed for a convex sphere and right-handed for a hollow one when reverse_v is FALSE, and vice versa when reverse_v is TRUE. When the sphere is transformed, the sense of reverse_v is inverted if the transform includes a reflection. No special action is required for a negation.
The parametrization implemented uses conventional latitude and longitude angles. The direction pole_dir specifies the north pole, and uv_oridir gives the zero meridian and equator.
The variables uv_oridir, pole_dir, and reverse_v that define the sphere parametrization are consistent with the same variables used for tori.
Sphere Characteristics
Spheres are not true parametric surfaces.
Spheres are periodic in with period and parameter range [, ), but not periodic in .
Spheres are closed in but not in .
Spheres are singular in at the poles; non-singular everywhere else.
See Also
Constructors – contains API functions and Scheme extensions for the creation of spherical surfaces.