Component:3D Mesh
From DocR23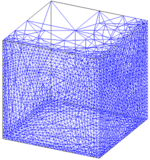 The 3D Mesh product provides direct access to the meshing library interface. 3D Mesh users have full access to all the power and flexibility of the VKI Meshing library for general-purpose meshing applications.
In addition, the 3D Mesh product provides all the functionality available in the EDA Mesh product to give easy meshing of ACIS geometry to surface or volumetric meshes.
| Operation | Description |
| --- | --- |
| Getting VKI Objects | The VKI/ACIS Bridge creates surface and tetrahedral meshes from ACIS geometry, storing the results in VKI mesh objects. 3D Mesh applications may call VKI functions on the mesh objects directly, after retrieving the mesh object handles from the bridge. |
Building 3D Mesh Applications
Main article: Building 3D Mesh Applications
3D Mesh provides access to the VKI library functions to give application code the ability to manipulate the VKI objects directly as well as through the VKI/ACIS Bridge.